ALTE (The Association of Language Testers in Europe)
Recognising the need for a coherent approach to language testing, ALTE was established in 1989 by the Universities of Cambridge and Salamanca. The initial aim was to establish common standards for language testing across Europe, thereby supporting multilingualism and helping preserve the rich linguistic heritage of Europe. It was also vital that individual test takers gained a language qualification that was a fair and accurate assessment of their linguistic ability, one which was recognised around the world, and which could be accurately compared to qualifications in other languages.
The European Consortium for the Certificate of Attainment in Modern Languages is an ALTE Institutional Affiliate.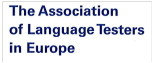 ALTE Affiliate Status Agreement
http://www.alte.org/membership/alte_institutional_affiliates